Jul 11 / 2018
Comments Off on saprima® visual Projectmanagement
saprima® ermögicht jetzt eine visuelle Darstellung Ihrer Projekte.Und dies nicht nur statisch in Reports, sondern in einer interaktiven Ansicht im Broser oder als mobile APP.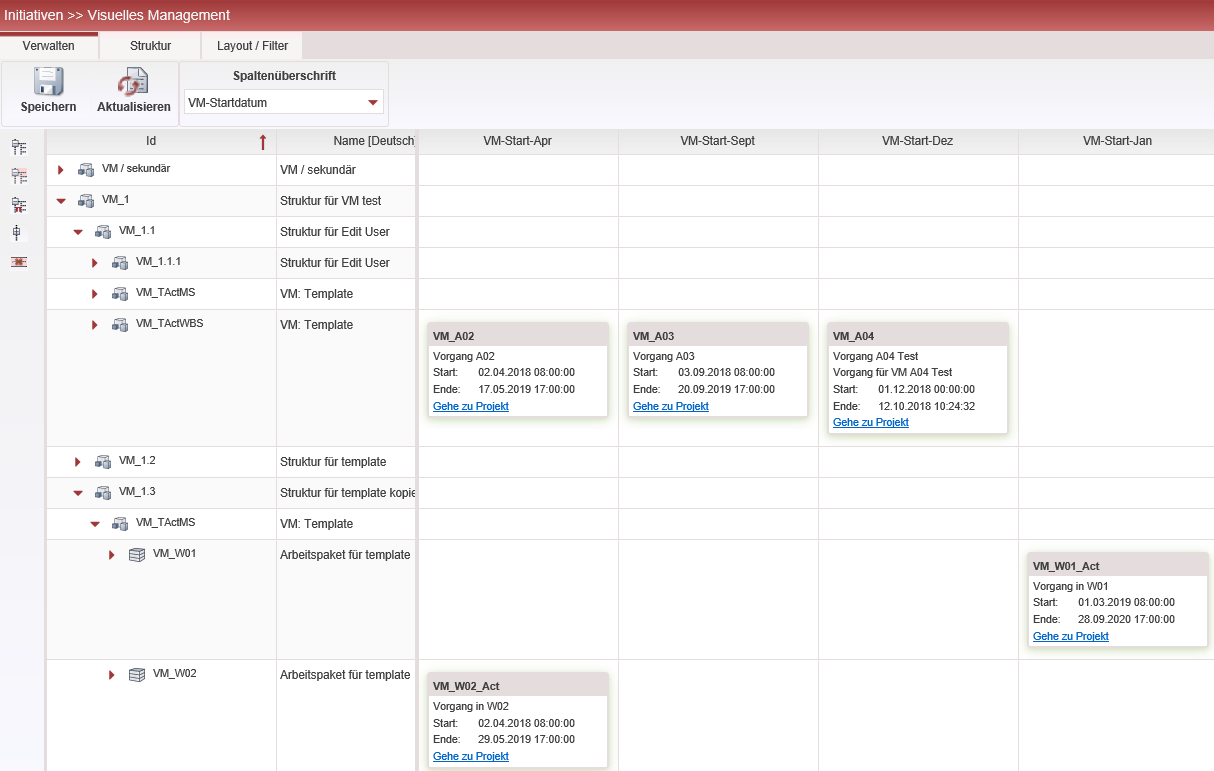 This saprima® Usecase offers you the opportunity to present your project structure in an interactive view. The left part shows your structure in a tree view, which you can unfold to a defnable level. A certain level can be displayed as a tile. In this turn, freely definable fields are displayed. Columns display values of a "user-defined field" (UDF). These can have different types. Moving a tile from one column to another automatically changes the value of the initiative's UDF. In addition, a definable rule (arbitrary logic) can be executed via the rule engine, to the event "postpone the initiative". The appearance and content of the tiles can be freely defined. In order to display different use cases in this way, you have the possibility to define several of these representations and to call them up via the menu
Examples:
Roadmap Planning:
You are already successful in rolling or Resource management, at whatever level, for all your project ideas and projects in saprima®. Taking into account the resources capacities creates a roadmap of projects. Since this roadmap changes from a strategic point of view, a reworking of resource planning is necessary again and again. Often the roadmap planning is mapped in PowerPoint. If it is changed, the impact on resource capacity can only be seen when planning is adjusted in saprima®. With our new visual management Usecase, the following could be done:
Resource planning on WBS or Activities is performed by Resource Manager in saprima®
In the visual use case, milestones (quarter, fair dates, gate milestones …) are displayed as columns.
Depending on the date of the project, the projects are displayed as tiles in the columns
If a project is now moved from one column to the other, this event triggers a rule that automatically reschedules the project, thereby shifting the resources required accordingly.
now it can be made immediately visible, which effects this has on the resource situation, and it can be reacted directly in this Usecase
interactive project leader assignment:
the project leaders are displayed as columns
the projects are displayed as tiles in the columns
If you move a project from one column to the other, a new project manager is automatically assigned and the initiator of the project can be informed by e-mail about the initiated rule.
Tell us your requirements, we check if and how you can implement them in saprima® and with this "visual use case"!