Jan 10 / 2018
Comments Off on With saprima® implement Projectmanagement modular!
Where does project management start and where does it end?
For some, project management starts with the idea for a project, for others, a project starts with the realization. In some cases, scheduling is already project management and in others, ideas management, portfolio management, scheduling, resource management, cost management, target / actual comparisons, agile methods … are essential components of "project management". Often it depends on the project type which project management disciplines have to be used to realize a project.
Do all disciplines of project management necessarily have to be applied?
It makes sense to apply all disciplines of project management. Of course, and this is the point, the effort for project management should not exceed the benefits. So it certainly makes sense to look at all projects together and to classify them according to their priorities. After all, if problems occur, be it from a cost perspective or because of cpicity of scarcity of resources, it must be possible to decide immediately which project gets the resources or in which project the budget should not be lowered. Scheduling is important to communicate completion dates. Every discipline certainly has its advantage and is carried out in any way, either with or without a tool, in each company. It only depends on the detailing of the planning. So you can, for example Plan resources to the minute with a high degree of planning effort, or schedule a role-based plan every month or even every quarter.
Why is saprima® particularly suitable as a project management tool?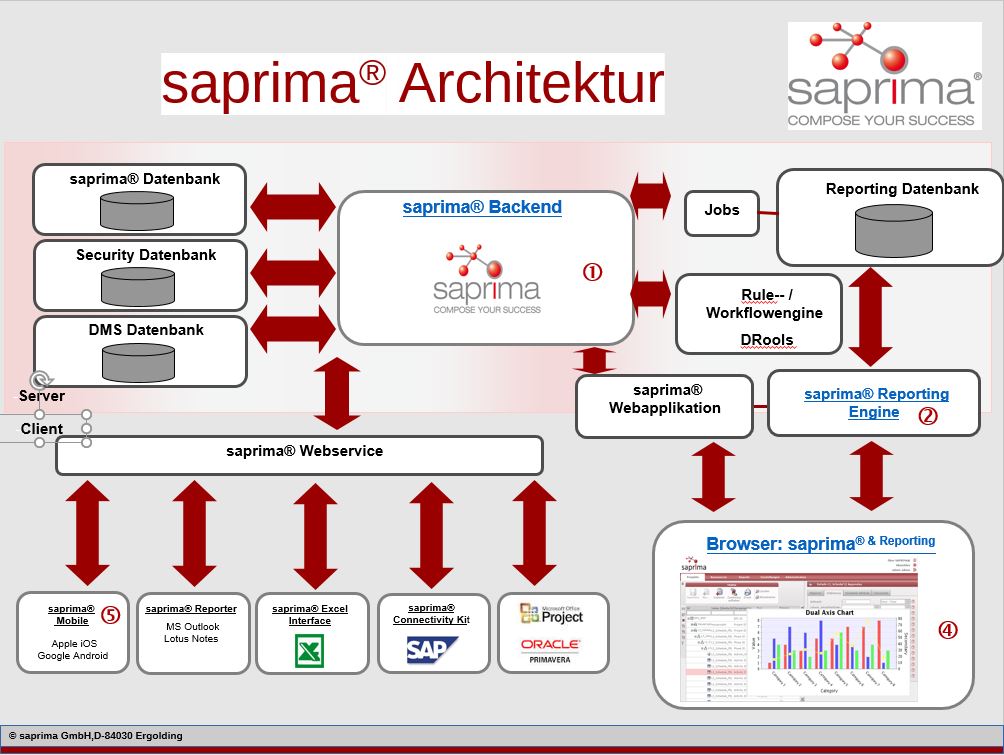 Due to the architecture of saprima® and the data model according to DIN 69901-4, it is possible to map all current methods and functions of multiproject management in saprima®. It does not matter whether the data is entered directly in the saprima® web interface or imported from other systems. Via the saprima® backend, the data is written to the database in standardized form and is thus available for further processing and for evaluations in the provided BI system from Jaspersoft. The data can also be provided by saprima® for a BI system available to the customer.In practice, you can carry out scheduling with forward / backward calculation and resource planning in one project and perform role planning in another project only at the project level. saprima® will provide you with standardized data in the integrated BI system for all evaluations. Due to the flexible import possibilities, it is not necessary for you to carry out all disciplines in saprima®; you can import dates and manage portfolio management, resource management … in saprima®. It is important to have an overall view of all projects that can be realized in a company, to evaluate them together.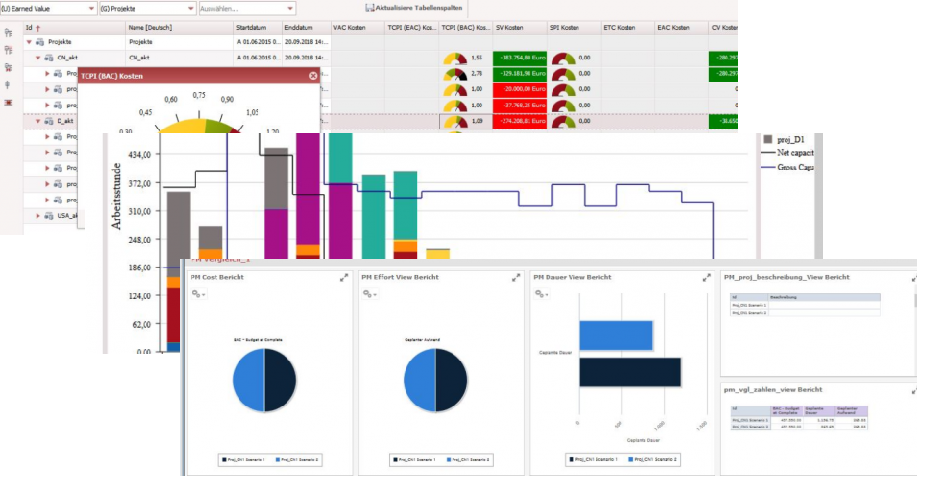 How can saprima® be implemented!
Since saprima® supports all disciplines of project management, it really does not matter which discipline and in which level of detail you start with the implementation.So, at the project level, you can start with role planning because the most necessary information is the staff utilization at role or department level. Afterwards you can take care of the topics scheduling, cost management etc. Most of the time, portfolio management is a waste product, because you have stored all projects in the database for e.g. resourcemanagement. Similarly, you can start with portfolio management or idea management and then continue with role or resource planning. The flexible import and interface options make it possible for employees to continue working in their usual tools (Excel, MS Project, etc.) and to only use the comfortable BI functionalities of saprima®. So you can imagine a variety of scenarios for getting started, which can be expanded later. The most important principle is:
"The planning effort must not exceed the benefit!"